The basic version of the Business Modelling Kit enables entrepreneurial teams to explore the range of ideas and viable business models for a new or existing business. Results provide the basis for business model innovation through an iterative process comprised of exploration, elaboration, evaluation, experimentation and evolution of assumptions. The toolkit was optimized and advanced through numerous workshops with startups and corporate venture projects.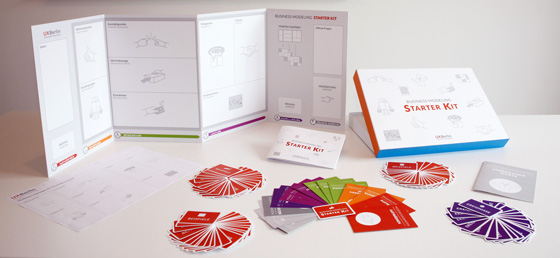 We now provide a basic version available for free download from this page. Advanced users and moderators are asked to turn to the Business Innovation Kit.

Instructions for Download and Print
Download the free basic package: It contains the print files for the playground, refinement sheets, 16 facilitation cards, 16 case cards and 16 challenger cards.
Print the Playground on DIN A3 and tape the two parts together as indicated. Print the refinement sheet 3 times on A4. Print the other cards on double sided thick paper (ideally 250+ grams). If you print in a copy shop use Coated Fogra39 as target profile for the colours. Due to technical reasons some printers do not match the pages perfectly. For best print results set marks on "print pages centred" and "resize document to fit paper size" in the print dialogue. Cut the cards according to the trim lines.
Gather the participants, give each one a pen and a stack of post-its. Arrange all materials on a table, and start modelling following the instructions on the Facilitation Cards.
Further background information and instructions are available in the eBook 'How to Model New Business'.
Customer Feedback and News
Here you find more feedback from users. Further news are visible on Facebook.

Download Materials
Further Sources
References
The kit has been applied at companies in energy, automotive, and media, and universities worldwide:
HMKW Berlin
Leuphana University Lueneburg
University of Hamburg
University of Aachen
OCAD University, Toronto
Sungkyunkwan University, Seoul
Related works & inspirations