The Business Innovation Kit (English, German, Polish or Spanish) enables entrepreneurial teams to explore, discuss and co-define a range of ideas and viable business models for a new or existing business. Whereas a 'Starter Kit' supports basic business modeling exercises, the 'Business Innovation Kit' facilitates collaborative modelling and differentiating business models further. It helps exploring viable revenue models, walking through the customer journey, and pursuing normative orientations like dedication to sustainability or values of privacy. Results provide a basis for lean venturing that proceeds through iterative exploration, elaboration, evaluation, experimentation and evolution of assumptions.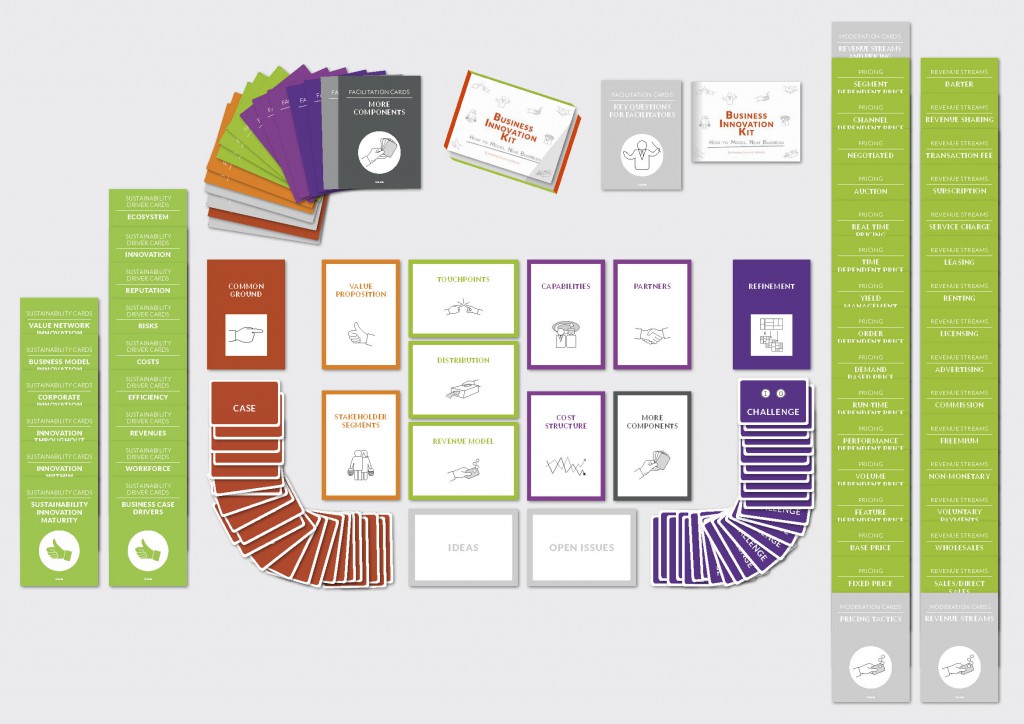 Modular Playground: Create a path for collaboration using attaching selected playground cards (13 in total) onto office walls. Move with the workshop participants from one station to the next.
Corporate Sustainability Cards: 15 cards inspiring new ways how business may profit from sustainability-orientation with respect to five maturity levels of sustainability innovation. First, select the target level. Then, reflect for each of 8 drivers of sustainable business cases on how to enhance sustainability in each component and their interaction within the business model. We are proud to develop the sustainability innovation toolkit in close collaboration with Florian Lüdeke-Freund of the University of Hamburg.
Revenue Modeling Cards: 33 cards to explore the most common revenue streams and pricing tactics. The key revenue and pricing patterns are presented and negotiated through drivers and examples. Revenue modeling cards ensure that the scope of potential revenue models pertaining to the business in question are covered.
Customer Journey Cards: 9 cards to capture insights and model touch points with customers, stakeholders and the whole journey.

186 Cards in a Box: The Business Innovation Kit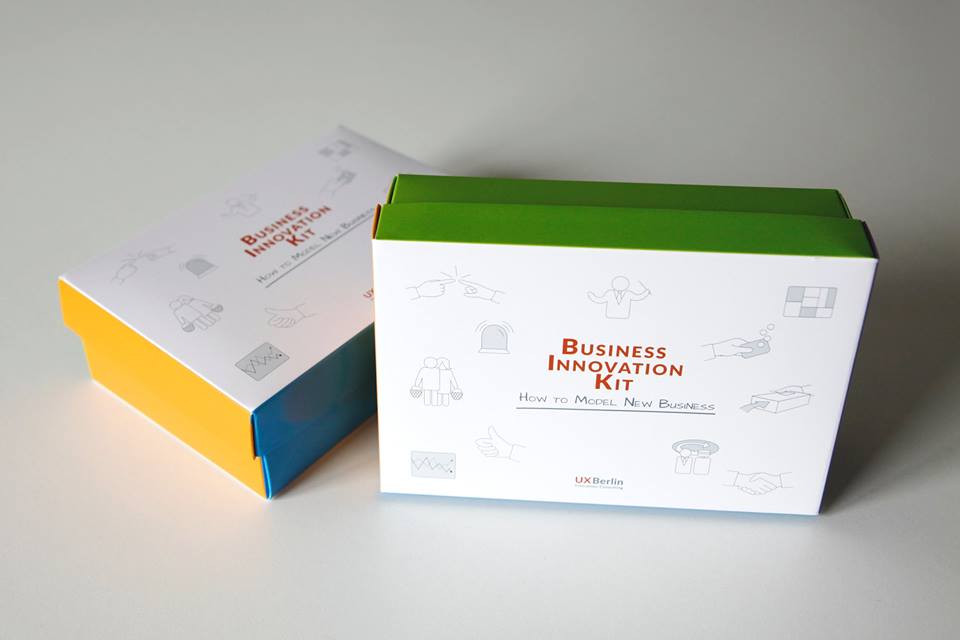 You may access our recent paper on Normative Innovation demonstrating and explaining work with the Business Innovation Kit in the context of modelling sustainable business ecosystems. Also check out our highly respected friend's tools to support the design of strongly sustainable business models on Flourishing Business.

Feedback and Facebook News
'Diverse professional groups – from the student to the CEO – can substantially profit [from the toolkit]' (Prof. Dr. Frank Piller, RWTH Aachen). Find some user feedback here. Some news are visible on Facebook.

Ordering Information
Please send us an email with your shiping address, billing address and tax ID, and we will send you an invoice and send the English toolkit (at 89€ costs of production plus shipping). If you prefer the basic card sets in German, Spanish or Polish please let us know. The eBook is also available on Amazon, just like the full textbook on Values-Based Innovation Management.

Download Materials
References
The Business Innovation Kit has been applied at companies in telecommunication, automotive, and media, and at universities:
Berlin University of Technology
HMKW Berlin
Leuphana University Lueneburg
University of Hamburg
University of Aachen
Avans University, Netherlands
OCAD University, Toronto
Sungkyunkwan University, Seoul
Waseda University Tokyo