Das Sustainability Innovation Pack (ein zentraler Bestandteil des Business Innovation Kit) unterstützt Innovatoren dabei, nicht nur wirtschaftlich tragfähige, sondern zugleich auch nachhaltigkeitsorientierte Geschäftsmodelle zu entwickeln. Eine Übung dient der Einordnung des eigenen Vorhabens in fünf verschiedene Reifegrade nachhaltigkeitsorientierter Innovation. In einem zweiten Schritt werden Treiber für Geschäftsfälle (Business Cases) angeboten, mit deren Hilfe die Geschäftsidee und das Geschäftmodell mit seinen Komponenten nachhaltigkeitsorientiert weiterentwickelt werden kann. Das Sustainability Innovation Pack liegt derzeit ausschließlich auf Englisch vor. Hier zwei Beispielkarten.

Beispielkarte zu Reifegraden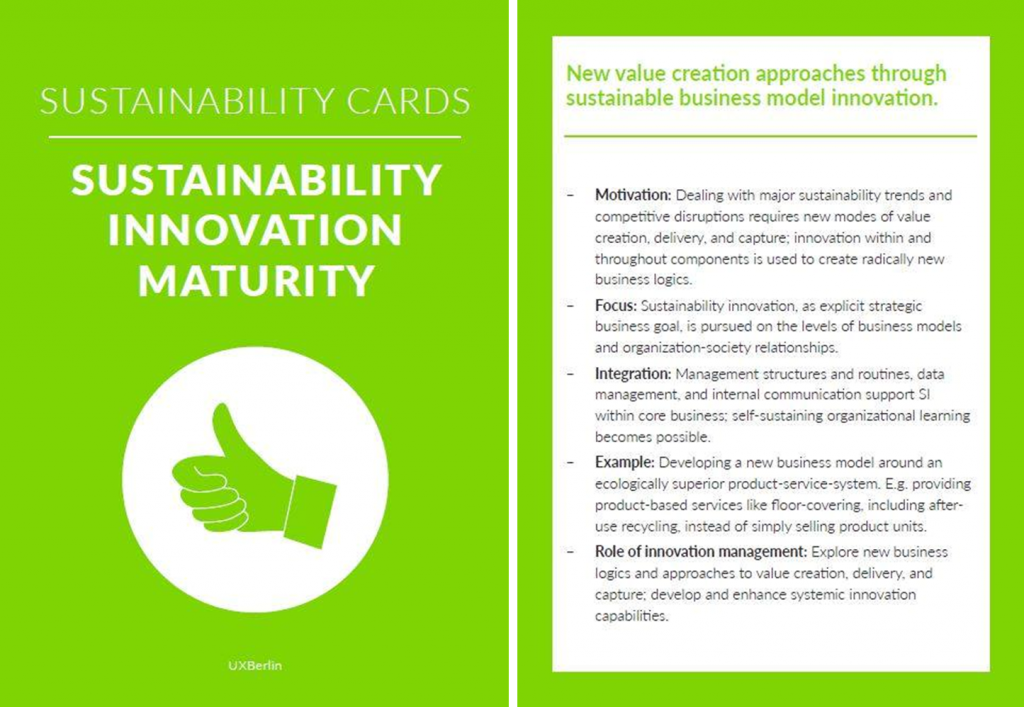 Beispielkarte für Treiber nachhaltigkeitsorientierter Innovation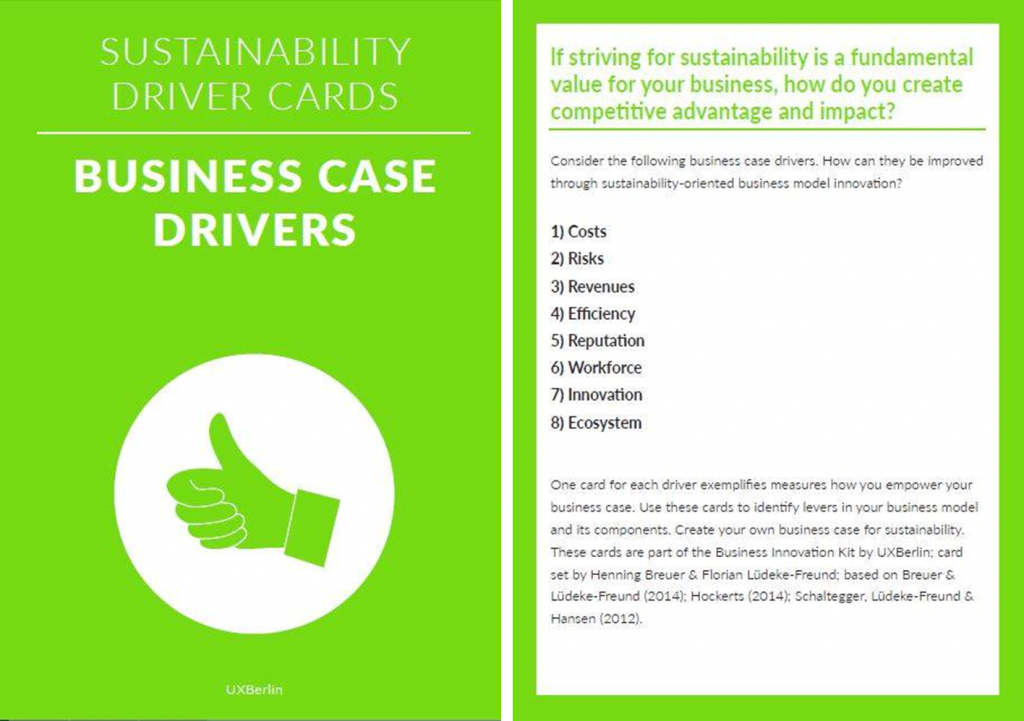 Referenzen
Das Sustainability Innovation Pack haben wir gemeinsam mit Florian Lüdeke-Freund von der Universität Hamburg entwickelt. Hier sein Blogbeitrag.

Breuer, H. & Lüdeke-Freund, F. (2017). Values-Based Innovation Management – Innovating by What We Care About. Houndmills: Palgrave.

Breuer, H. & Lüdeke-Freund, F. (2017). Values-Based Network and Business Model Innovation, International Journal of Innovation Management, Vol. 21, No. 3, Article 1750028.

Schaltegger, S.; Lüdeke-Freund, F. & Hansen, E. (2012). Business Cases for Sustainability: The Role of Business Model Innovation for Corporate Sustainability, Int. Journal of Innovation and Sustainable Development, Vol. 6, No. 2, pp. 95-119.